Morgan Harper Nichols Art Prints, Notes and Memo Pad Set
Product Details
Bring optimism and style to every day with this beautiful desk set that features the artwork and inspirational messages of Morgan Harper Nichols. This unique stationery collection includes a memo holder designed with a front insert to hold one of the 6 art prints included. Easily change the display seasonally or daily to fit your mood. 20 blank, single-panel note cards with painted border designs are perfect for sharing your own encouraging thoughts, and a 50-page memo pad will keep your notes, errands and to-do lists within easy reach.
Stationery set includes a memo holder with front insert and 6 displayable art prints, memo pad and 20 flat note cards (4 each of 5 designs). Envelopes not included.
Inspired by real-life stories of caring, the Real Stories collection makes it easier for you to show up for the important people in your life at any time of any day. As a poet and artist, Morgan Harper Nichols pairs words of hope, self-acceptance and perseverance with her designs to inspire and encourage people around the world.
Art print messages:
Rainbow landscape design: You do not have to be fearless. Doing it afraid is just as brave. – MHN
Lettering on blue design: One day you will look back & see that all along, you were blooming. – Morgan Harper Nichols
Abstract flower design: You are worthy of love and support right here where you are. – MHN
Sun rays design: A new day is coming. – MHN
Colorful abstract design: Here's a little reminder to be kind to yourself today. – MHN
Yellow circle design: So much has changed since this time last year.

Memo pad message: Pace yourself. You can do this.
Note cards are blank for your personal message.
Memo pad: 50 sheets.
Memo cube: 3.87" W x 3.12" H x 1.37" D
Memo pad: 3.75" W x 4.87" H
Notes: 3.75" W x 4.37" H
© 2021 Morgan Harper Nichols. Used under license. All rights reserved.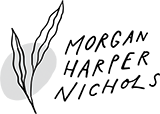 Need help?
Great notepad for my day

I love this little Inspirational notepad holder because I see it every day and can change the quotes out for how I need to feel. However the little pocket where you change the quotes is tight and they get stuck. I really wish this also has a pen holder, it would make total sense; I just leave one in but for aesthetics a place for it would be better. Overall I love this little piece I see every day when I go out to my counter and give myself a positive reminder.

Bought for: Myself

Was this review helpful?

Perfect set

What a perfect & pretty little mini stationary set. Good quality paper with uplifting affirmation & visually stimulating designs. I am very glad to have picked up this set. Definitely a good find.

Bought for: Myself

Was this review helpful?

I just love note paper

It's cute, reminds me to move forward and was on sale. What's not good about any of that? My Hallmark always has fun things!

Bought for: Myself

Reviewed by: Hallmark Consumer

Grad gift

This made a perfect graduation gift for my niece!

Bought for: Other Family Member

Reviewed by: Hallmark Consumer

Nice gift for a graduate/new job

I got this for my graduating students (and got one for myself)—it's a nice decoration to have in an office and it comes with notepad paper. It would be nice if there were post it notes in it too, so that's the only thing I would change. The interchangeable cards in the front are fun!

Bought for: Myself

Reviewed by: Hallmark Consumer

Notes and Memo Set

I love the artwork on these note cards. This would make a very nice gift.

Bought for: Friend

Reviewed by: Hallmark Consumer