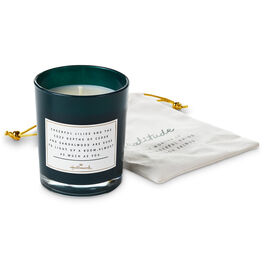 Gratitude Scented Jar Candle in Gift Bag, 7.5 oz.
Wax scented candle in glass jar and gift bag feature heartfelt sentiments.
On gift bag: Gratitude. You are worthy of every wonderful thing this season brings.
On candle: Cheerful lilies and the cozy depths of cedar and sandalwood are sure to light up a room, almost as much as you.
Fragrance: Lilies, cedar and sandalwood.