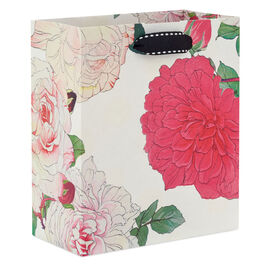 6.5" Illustrated Roses Small Gift Bag
Product Details
Wrap up a gift for a loved one in a bouquet of blooms with this gift bag featuring illustrated roses.
Small gift bag in white with sketched flower designs and pearl foil dots.
Approx. 5.5" W x 6.5" H x 2.9" D
Small-sized bags hold presents and treats like candy, jewelry, small candles, gift cards and more.
Perfect for birthdays, Mother's Day, anniversaries and special occasions.