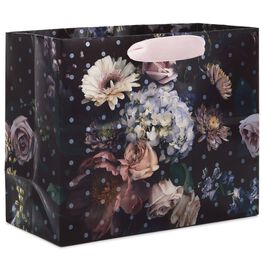 7.7" Shadowed Floral Horizontal Gift Bag
Product Details
Celebrate a special event with this bouquet of flowers gift bag. Medium horizontal bag features a darkened floral photo with an overlay of translucent polka dots. It's perfect for weddings, couple's showers, birthdays and more. Hallmark medium-sized bags hold presents like small stuffed animals, video games, DVDs, books, candles and more.
Medium gift bag features translucent silver bronzing accents.
Velveteen ribbon handles.
A card pocket inside holds most card sizes (card sold separately).
Made with paper from well-managed forests.