Rainbow Brite™: The Complete Series DVD
Product Actions
Product Details
Rainbow Brite™ is a little girl with a big idea: spread happiness and color throughout Rainbow Land™. Her friendly spirit never fades even when confronted with Murky Dismal and his buddy Lurky, two gloomy guys determined to drain the color from Rainbow Land™. Helped by her loyal horse, Starlite™, right-hand sprite, Twink™, and the Color Kids, Rainbow Brite™ shows how creativity, friendship and some well-placed Star Sprinkles can outshine darkness in the end. Whether you loved her in the '80s or are discovering Rainbow Brite™ for the first time, you'll enjoy these 13 classic episodes.
Set of 2 DVDs.
Includes 13 episodes.
Disc 1
1. Beginning of Rainbow Land, Part I
2. Beginning of Rainbow Land, Part II
3. Peril in the Pits
4. The Mighty Monstromurk Menace, Part I
5. The Mighty Monstromurk Menace, Part II
6. Invasion of Rainbow Land
Disc 2
7. Mom
8. Rainbow Night
9. Star Sprinkled
10. Chasing Rainbows
11. Murky's Comet
12. A Horse of a Different Color
13. The Queen of the Sprites

Approx. running time 260 minutes.
Rainbow Brite™ © Hallmark Licensing, LLC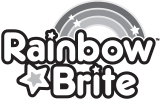 Need help?
Use #MyHallmark to share your photos.