Peanuts® 70 Years of Snoopy 1960s Limited Edition Figurine, 4.25"
Product Details
In 1950, Charles Schulz introduced the world to Charlie Brown, Snoopy and friends—a cast of characters that continues to bring laughter, wisdom and enjoyment to fans young and old. Featuring a 1960s design of Snoopy carrying his red food dish, this charming figurine commemorates the 70th anniversary of the first Peanuts comic strip. Vintage cartoons of Snoopy asking Charlie Brown to feed him decorate the stone-like gray base. The resin statue makes a wonderful keepsake gift for fans of the beloved Peanuts gang.
Peanuts limited-edition resin figurine features a retro design of Snoopy carrying his dog dish and comic strip excerpts on the base.
On figurine: 70 years of Snoopy.
Design commemorates the 70th anniversary of the first Peanuts comic strip.
4.38" W x 4.25" H x 3" D
© 2020 Peanuts Worldwide LLC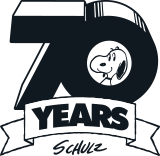 Need help?
1960sSnoopy

Cute cute cute!!!

Bought for: Myself

12th Anniversary Gift

My husband bought this for me for our 12th wedding anniversary. He knows that I love all "Snoopy" items from the Hallmark line. I thought it was so sweet to pick up the 70th Anniversary statue to surprise me. 😊 little did he know that when he used the "Gold crown rewards card it sends me these reviews to take part in. I am very happy with his choice and have always enjoyed any purchases made at Hallmark.

Bought for: Significant Other

70 Years of Snoopy

I am so happy that Hallmark is offering 70 Years of Snoopy collectibles. They are extremely well made and add a smile to my face.

Bought for: Myself

Happy 70th Birthday, Snoopy!

I grew up with Peanuts as a child in the 1960s and Snoopy was my favorite character. I loved him in the Sunday comics, in the paperback books my dad bought me, and, of course, in the Christmas and Halloween TV specials. Of the three 70th anniversary Snoopy figurines currently available (50s, 60s, and 90s), this is my favorite. Snoopy walking probably up to Charlie Brown with his food bowl in his mouth. I highly recommend the series and if you only buy one of the three currently available, this is my highest recommendation.

Bought for: Myself

Snoopy Fan

I purchased this for my son. He loves Snoopy and has several Snoopy items.

Bought for: Child

Snoopy, My Hero!!

As a child, my dog looked so much like Snoopy and had his own opinions. Then as I graduated from high school, over 700 of my class voted for Snoopy to be our mascot. He represents doing good and caring for others. As I look at my three commemoratives of him that were just released, he makes me smile. He's so caring about nature, so cute carrying his bowl when he is hungry, and totally awesome with Woodstock on his head - the best of friends!! Thank you so much Hallmark for releasing happiness during this grim year of major changes brought on by COVID. Snoopy will live forever bringing happy smiles and thoughts for even more generations to come.

Bought for: Myself

Was this review helpful?