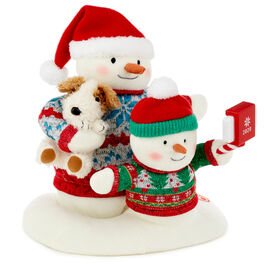 Cozy Christmas Selfie Snowman 2020 Singing Stuffed Animal With Light and Motion, 9.5"
2 discounts available
Interactive plush stuffed animal snowmen move and sing about taking a Christmas photo.
On plush: 2020.
Press the button to watch the snowmen move and sing to a fun version of "Jingle Bells."
Song lyrics: Gather 'round, sweaters on. Now everybody grin. Let's take a family photo we can share with all our friends. Lean in close. Silly face. Furry family, too! There's lots of cozy memories we want to share with you. Everyone say "Cookies! Cookies!"