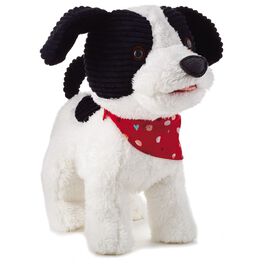 Love to the Max Pup Interactive Stuffed Animal, 9"
This item is not currently available.
Plush fabric.
Features sound and motion.
Says 1 of 7 phrases: Whooooo wants a puppy hug? Well, come and get it!
Doggone it, I like you! Raise the woof!
Guess what? I really dig you!
You make me one happy puppy!
Got a smooch for a pooch? I'm beggin' ya!
Who do I love? You-arooooh!
Wanna know something? You're the best!
Battery-operated (included).