My Little Pony™ Personalized Book
Details
https://www.hallmark.com/gifts/books/personalized-books/my-little-pony-personalized-book-1CBK2132.html
Product Actions
Product Details
With this customized My Little Pony book, an ordinary day turns extraordinary when a magical mirror transports your child to Equestria, the home of My Little Pony, where your child becomes a pony, too! Rainbow Dash has a cold, and the ponies need help to make sure she's better for the Equestria Parade. With a little know-how, a little magic, and a little help from Rarity, Apple Jack, Pinkie Pie, and all the pony friends, your child helps Rainbow Dash get better quick—because friendship is the best medicine! Take story time to a whole new level with a Hallmark personalized book.
Create a character that looks just like your child by selecting the gender, eye color, skin tone, hair color and hairstyle—then add a name to create a story that's all about him or her.
Add your name to the dedication page and book cover.
Available for boys or girls.
Online exclusive.
Hardcover; 20 pages.
8.75" W x 11.25" H
©2017 Hasbro. All Rights Reserved.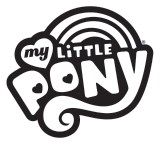 Need help?