The Wit and Wisdom of Rainbow Brite Book
Product Actions
Product Details
Whether you're a longtime fan or a brand-new friend of Rainbow Brite, you can count on her spunky outlook and creative spark to brighten up your day. This collection of wisdom inspired by Hallmark's most colorful hero is a great pick-me-up for old and new fans alike.
Hardcover; 124 pages.
6.25" H x 4.25" W
Rainbow Brite™ © Hallmark Licensing, LLC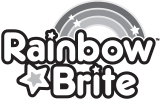 Need help?