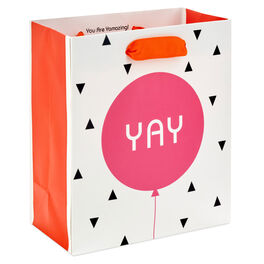 6.5" Yay Pink Balloon Small Gift Bag
Product Details
Give a "yay" to the birthday guy or gal with this modern gift bag with a bright balloon and tiny triangles of confetti.
Small gift bag in white with pink balloon, black triangle pattern and white lettering.
Approx. 5.5" W x 6.5" H x 2.9" D
Small-sized bags hold presents and treats like candy, jewelry, small candles, gift cards and more.
Perfect for birthdays, holidays and special occasions.