Ornaments Spanish-Language Christmas Cards, Box of 16
Hallmark VIDA
Holiday Boxed Cards—Buy one, get one 50% off
Discounted item of equal or lesser value. Add two holiday boxed cards or boxed card accessories to your cart to get this special offer.
Details
Product Details
Boxed Christmas card set includes 16 cards and 17 green envelopes. Each card features three beautiful, vintage-styled ornament designs against a snowflake-patterned red background and silver glitter accents. Message in Spanish with English translation on back.
Cover message: Feliz Navidad.
Merry Christmas.
Inside message: Su familia es un bello ejemplo de unidad y amor, y desearles una Navidad llena de alegría y paz es un poco de lo mucho que tanto se merecen.
Your family is a beautiful example of love and unity. And for being so special, you're wished a Christmas that brings all the peace, joy, and warmth you so deserve.
Box size approx.: 5.3" W x 7.4" H x 1.3" D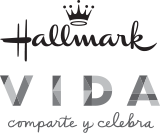 Need help?