Joy, Surprises, Happiness Spanish-Language Christmas Cards, Box of 16
Hallmark VIDA
Holiday Boxed Cards—Buy one, get one 50% off
Discounted item of equal or lesser value. Add two holiday boxed cards or boxed card accessories to your cart to get this special offer.
Details
Product Details
Boxed Christmas card set includes 16 cards and 17 red envelopes. Each card features a detailed illustration of the three wise men bearing gifts. A green floral background and embossed gold foil accents add elegance to the design. Message in Spanish with English translation on back.
Cover message: Con Cariño en Navidad.
Warm Wishes at Christmas.
Inside message: Que esta Navidad y el año nuevo vengan repletos de alegrías, sorpresas y de todas las cosas que traen felicidad al corazón. Muchas Felicidades.
Wishing you a merry Christmas and new year loaded with joy, surprises, and everything that brings happiness to you. Best Wishes.
Box size approx.: 5.3" W x 7.4" H x 1.3" D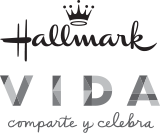 Need help?